Qu'est-ce qu'un tirage d'art limité ?
What is a limited fine-art print?
Pour être considérée comme une oeuvre d'art au même titre qu'une peinture ou qu'une sculpture, une photographie ne peut être tirée à plus d'un certain nombre d'exemplaires (nombre qui varie selon différents critères légaux, il est de 30 en France par exemple). J'ai choisi personnellement d'aller au-delà de ce critère et de ne tirer désormais que 5 exemplaires maximum d'une photographie - voire moins selon les séries. Ainsi, que ce soit sur toile, aluminium ou papier photo, chacune de mes photos ne sera jamais réalisée plus de 5 fois, tous formats confondus, afin que chacune conserve son originalité et sa valeur. Pour certaines potographies, il est possible que ne soit réalisé qu'un unique exemplaire.
To be considered as an artwork as well as a painting, a photograph has to be a limited print. Prints number may vary depending on the country, and I chose to be below the legal number in France (30) and to run only 5 prints of every picture - sometimes less. Whether it is printed on canvas, fine-art paper or aluminium, each photograph will never be printed more than 5 times, granting its originality and value to every artwork. It is also possible to have a unique print of a certain image.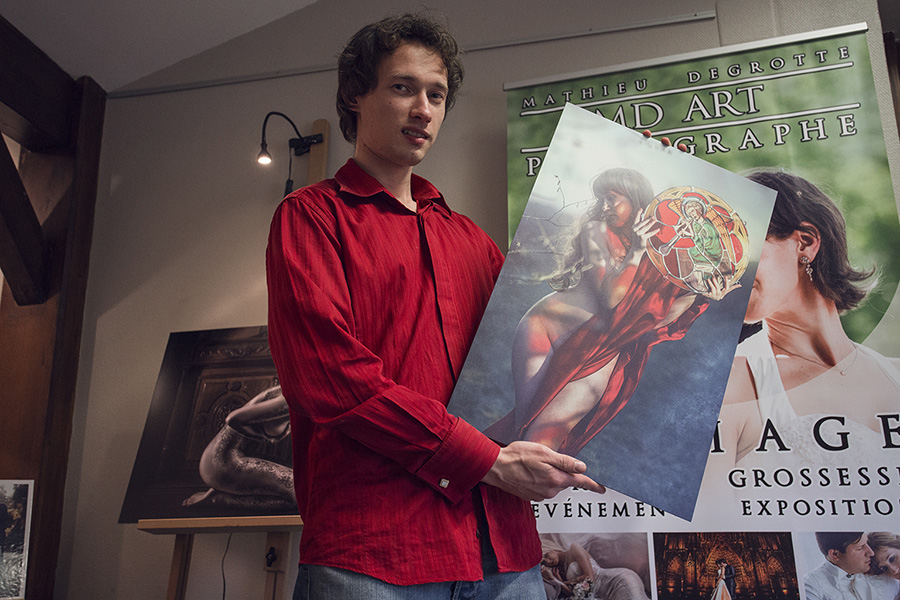 Quels sont les supports ?
Medium & Format?
Ils peuvent être très variés mais les plus recommandés, tant pour leur qualité esthétique que pour leur longévité, sont les tirages sur papier fine-art et le dibond (matériau composite consistant en une plaque de polyéthylène entre deux plaques d'aluminium). Mes impressions fine-art, réalisées sur du papier de qualité musée, conservent toutes leurs qualités durant au moins 100 ans voire plus s'ils sont conservés correctement. Ils peuvent être réalisés sur papier seul si vous souhaitez les mettre sous verre, ou bien contrecollés sur un support dibond qui leur conférera relief et rigidité. D'autres types de support (bois, toile, plexi, PVC...) sont également disponibles sur demande selon vos envies.
Photographs can be printed on very different materials, but I recommend fine-art paper or dibond. Due to their quality, my fine-art and dibond prints keep their aspect for 100 years and more if they are stored and handled with care. Other high quality materials (wood, canvas, plexiglass, PVC...) can be used depending on your needs.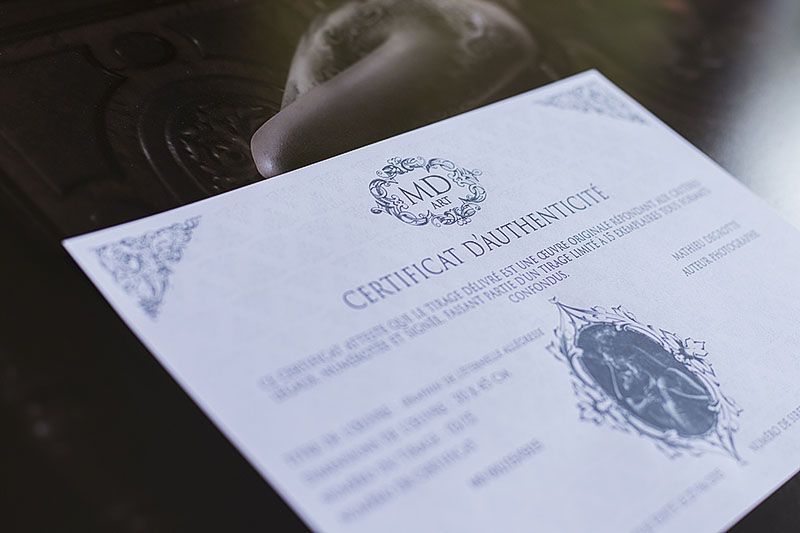 Authenticité ?
Authenticity?
Afin d'assurer leur authenticité, je numérote et signe chacun de mes tirages. Pour éviter la contrefaçon, j'accompagne également chaque oeuvre d'un certificat unique signé où sont rappelés le type et le numéro du tirage.
To ensure my prints are genuine, I number and sign every one of them. I also deliver them with a unique, signed certificate of authenticity where the material and number of the print are reported.
Quel prix ?
Prices?
Conformément à la qualité de leur support et à leur limitation, mes photographies se vendent à un tarif plus proche de celui d'oeuvres que l'on peut trouver en galeries d'art que de celui d'images disponibles en milliers d'exemplaires sur de grands sites commerciaux. Outre les coûts inhérents aux supports et aux encadrements, ces prix varient principalement en fonction du nombre total de tirages de la photographie ainsi que du nombre d'exemplaires déjà réalisés. Pour pouvoir vous fournir un prix spécifique à la photographie qui vous intéresse, je vous invite donc à me contacter aux coordonées ci-dessous.
Due to their quality and limited run, my photographs are sold to rates similar to those we can see in art galleries. Prices may vary depending on the size and material of the print, but they mostly very according to the total and remaining number of prints of the photograph. In order to give you the most precise price, please give me all information by contacting me to the e-mail below.
Les photographies de mon portfolio, de mes séries et de cette galerie plus complète sont disponibles.
Mathieu Degrotte | M.D.Art@mail.com | +33 6.83.60.42.73
SIRET - 804327740 00010
Photographs from my portfolio, my series and this more exhaustive gallery are available.
Mathieu Degrotte | M.D.Art@mail.com | +33 6.83.60.42.73
SIRET - 804327740 00010